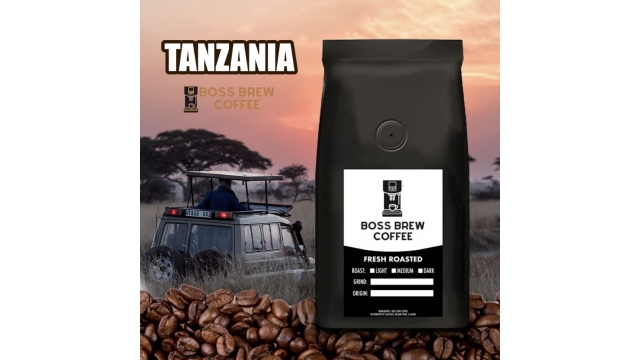 The coffee maker's new Tanzania brew has been handcrafted from exotic Bourbon and Kent beans, which gives it a light, fruity and floral palette with warm notes of pear, jasmine, and strawberry. Boss Brew Coffee recommends this silky coffee to daily drinkers and coffee connoisseurs who want to start their day with a Cup of Joe that is rich and flavorful yet subtle.
More information is available at https://bossbrewcoffee.shop/products/tanzania
Boss Brew Coffee has released its new Tanzania coffee in the wake of its growing popularity amongst American coffee consumers. With their Indonesian, Ethiopian, and Guatemalan coffees all going on to be best sellers, the retailers and coffee makers are proud to now be crafting Tanzanian coffees. They believe the beans produced in this up-and-coming coffee region offer drinkers uniquely fresh, light, and floral flavors.
The retailer's Tanzania brew has been harvested from the Mbeya Region of Tanzania, a high-altitude region known for its fertile clay mineral soil. As with all of their international coffees, Boss Brew Coffee only sources the finest ethical beans, and in addition to their rich flavor profile, the retailer's Bourbon and Kent beans are sourced from small cooperative farmers in the Mbeya area.
These organically grown and harvested beans are then fully washed and dried on raised beds before they are skillfully medium-to-light roasted by Boss Brew Coffee's industry-acclaimed roasters.
Shoppers can now purchase the brand's Tanzania coffee in whole bean or in a standard (coarser) or espresso (finer) grind.
Boss Brew Coffee is one of America's fastest-growing specialty coffee retailers. They offer shoppers a vast selection of premium organic and fair trade single-origin coffees and popular blends.
A spokesperson for the coffee growers and roasters said, "This Tanzania medium-light coffee is versatile and has a floral and fruity tasting profile. These flavors make your coffee even more appealing and delicious. We want you to enjoy the Mbeya Region of Tanzania's influence and their unique Bourbon and Kent bean varieties, which we have harnessed with our new coffee's exotic and flavorsome profile and silky texture."
More details can be found at https://bossbrewcoffee.shop/products/tanzania
Boss Brew Coffee LLC
hello@bossbrewcoffee.info
+1-727-992-0971
3104 Town Avenue Unit #301
United States
COMTEX_425687709/2764/2023-03-01T00:07:21
Disclaimer: The views, suggestions, and opinions expressed here are the sole responsibility of the experts. No Ireland Daily News journalist was involved in the writing and production of this article.